Well, business as usual, but this May was a little bit special as it was my 35th Wedding anniversary. It would be fatal for me to forget this date, as the leader of the opposition when offended can be quite adept using devious retaliatory methods - e.g.:-
I was once foolish enough to criticise her over-cautious driving; she didn't respond immediately, but a little further on said "I think I've got a puncture in a rear tyre". Complaining, I got out of the car to check - she drove off and left me standing at the kerb 10 miles from home and my wallet in the car! I did have small change in my pocket so found a bus stop a mile or two down the road. I caught a bus and gave the driver my total coinage and asked him to take me as far as the monies would allow towards Hailsham. He pulled over at a bus stop 2 miles from Hailsham and shouted down the aisle "your out of credit mate", embarrassing or what! All the passengers with their valid tickets were smirking. As I approached the doors, he closed them, drove off and dropped me in Hailsham - bloody comedian!
On another occasion, after multiple ignored requests to replace a loose wire on her iron, she called out an Electricity Board engineer to replace the plug!!! Ignoring warnings of high charges by the sparky, the short directive from her was "Just Do It". On arriving home she handed me the bill with the 'I warned you' smile. I calculated that the bill was equivalent to 16 new irons! Time for a regime change I think!
We took a short break in London to celebrate our anniversary as we haven't visited the Tower of London since it was built.
We travelled up by train which had trolley service and sold white wine! What a good start. Arrived at Victoria Station and was accosted by a foreign beggar asking for money, as he was better dressed than me, I asked him for money.
The Five star Hotel was wonderful, the only problem was the language barrier. I should have prepared for a London visit by learning a few basic words of Polish!
We visited the Tower of London. If you've never been, it really is a must before you die, just ask Anne Bolyn. There was an exhibition of recently discovered Henry VIII's armour entitled 'dressed to kill', amazing! I managed to offend a curator when I asked "is there any genuine armour here, not reproduction?". He was very indignant. His curt response was, " Sir, I can assure you this is all entirely genuine and many items were used in both battle and tournaments".
"Just asking, because according to Wikipedia, velcro fasteners are a relatively modern invention!"
Tradition has it that when/if the Ravens ever leave the Tower of London, the entire United Kindom will fall. Well I have it on good authority that Peter Mandelson has been up to his tricks again; the Ravens wings have been clipped!
Ya gotta to hand it to him!
In the evening we went to see Phantom of the Opera. Faaaaaantastic! The stage is a scientific marvel! In one scene, there was a very low mist and huge candleabra's just rose through the mist. Superlatives are in short supply here, go to see it if you have not already, but I recommend booking normal seating, not a Royal Box (Jaqui booked the tickets, I only have to make another 72 trugs to cover the cost).
On leaving the theatre there were paparazzi everywhere, obviously trugmakers have celebrity status in the Haymarket, but it transpired that the theatre opposite had a 'first night'. Stars and Rollers everywhere, I shook hands with all those that knew me and left.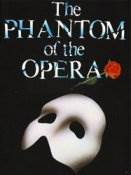 While working, I rarely eat anything substantial, just graze. I don't have lunch or dinner breaks (gotta pay for those seats somehow) and prefer to be ravenous when I eat to enjoy the food to the full. Before leaving for the theatre, Jaqui ordered a sandwich as she was a bit peckish. I declined one (at £13 95 can you blame me?). Trouble was, it was the busiest time of day for sandwiches and it didn't arrive before we left so I asked the consierge to leave it covered in our room.
By the time we left the theatre I could have eaten a decomposed cat. While heading for the nearest restauraunt dreaming of an Aberdeen Angus hind quarter and chips, Jaqui muttered "I'm so looking forward to my sandwich". One doesn't have to be Stephen Hawking to assume that she had no intention of eating out!
So - back to the Royal Trafalgar Hotel. The hotel was all one could ask in every aspect - except their sandwiches, I've seen better in a Salvation Army kitchen (not as a recipient I must add). There was one consolation The consierge had left a complimentary bottle of wine as it was our Anniversary.
Ever since birth I have always been beleaguered by the 'Sods law factor'. Proof?
In the morning, quite prepared to eat the yellow pages from a recycling bin, we approached the breakfast buffet. Wow! Bacon, scrambled eggs, fried eggs, sausages, ham, mushrooms, sausages, baked beans, tomatoes, fried bread, toast, coffee, fruit, kippers, croissants etc.etc. Oh! heaven, serious gluttony is about to occur! Bad News! The plates were obviously tailored for the recipients of a gastric band.
Making my way back to our table with a teaspoon of scrambled egg, a sausage and eleven and a quarter baked beans, I was dumbfounded to see on an adjacent table, two diners had plates the size of the Isle of Wight filled with a mountain of ALL the aforementioned (and ironicly, artificial sweeners). Leaning forward for the sake of discretion, I pointed out the heartbreakingly unfairness to Jaqui. She said "Oh yes, the breakfast plates were in a warmer in the corner, you've taken a sideplate for toast, I thought you weren't very hungry"!
This year I have decided to be more adventurous in the garden and have grown for the first time:-
Outdoor tomatoes (as I don't have a greenhouse). Runner beans, Chillies and Dahlia's.
In the pub, old Bill (no not the C.I.D. It's William) on hearing me speak of my forthcoming intentions, winked and said "I've got some fertilizer you can borrow" ( he said borrow? How can I give it back?). The following day a five gallon tub was left for me under care of the landlord. I have to say after carrying it half way home, it appeared to be growing itself as it got heavier and heavier. I was tempted to empty it over the bridge of an ex railway line (the cuckoo trail) but reconsidered as there may be unsuspecting jolly ramblers below who would not appreciate an unexpected shower of omnivores waste matter (although it may lead them to reconsider if pigs do fly!).
After preparing all the soil for the aforesaid vegie delights, I added the fertilizer and dug it in - phew, it smelled like a Bedouin's sandal. To reward my efforts, I decided a swift half up the pub was in order. Old Bill, was there again and said "did you bring the fertilizer back?".
I was bemused, "No, I used it".
"What all of it" he said with wild staring eyes.
"Yep"
"You bleedin idiot, there was enough there for 20 years, you only needed a handful!"
(So why didn't he just give me a handful?).
Thanks to old Bill, the tomatoes were initially an unbelievable success. I don't eat raw toms at all, only cooked, but these were so incredibly tasty I actually did. But! Toward the end of August their rate of growth overtook my grazing and increased in size to such a degree they were bursting! Good fertiliser that!
The runner beans were also a great success. They were grown against trellis topped fencing panels which I daily harvested, blanched and froze. Early September, my neighbour caught me in the garden and handed me a huge bunch of runner beans that would have triumphed in any large veg growing competition. Thinking he was boasting having grown runner beans with the dimensions of railway sleepers, I said "no thanks I already have a freezer full". He said "they are not mine, they are yours, their growing over on my side". Good stuff that fertilizer!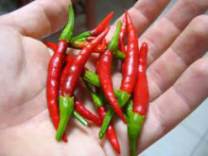 The chillies were a comparative let-down. They only grew to about 1 1/2" long, but HOT! They make Scotch Bonnet chillies comparative to apples. The pub landlord boasts he eats very hot curry's, so I minced them up in a blender (which I had to replace as Jaqui refused to use it again as it tainted everything even after two cycles of the dishwasher) and added it to a small pot of very hot Indian relish Jaqui had made 3 years ago. After cooling, (misleading description), I dipped my little finger in and tasted a pinhead sized amount - literally.
A pint of milk and two pints of water later I managed to inhale again.I wrapped the very volatile concoction in an asbestos blanket, took it up the pub, and handed it to the landlord.
"Try this, it's really nice, Jaqui made it and asked you to try it." I said (absolving myself of blame in the event that it should turn nasty). Chris, the Landlord, took out a desertspoon, scooped out about a quarter of the jar and took it all in one mouthful. I stepped back a few paces to achieve the advantage of non projectile range and reached for my mobile phone to call the fire brigade, a Paramedic and a referee.
A few highly tense and anxious seconds passed while Chris masticated.
"That's lovely Kev, if she makes any more I'd love some!"
"Yes Sir, what can I get you" he said wandering over to a customer.
He was right, Chris really does love hot Curry's!
The Dahlia's were also a great success, believe it or not, the Dahlia shown here was eleven and a half inches across, and still opening, stunning eh! Thanks Bill!
Well, that's my gardening fun over till next year, it's that time again, September, the time to wash my hands (in case they grow) and get into 2nd gear to produce my Christmas Trug stock. Don't forget to order early.

For some strange reason, October is often the quietest time of the year for Trug sales. I could understand it if it were January, when no-one is thinking of gardening. However, it does give me the opportunity to build stock for the Christmas rush - or that's the theory!
Exiting the bathroom after a shower and drying my hair with a towel (although a sheet of kitchen tissue would suffice), the towel was covering my face and as I turned to descend the stairs. I missed the top step, somersaulted down from top to bottom, crashed through the door of the downstairs loo before coming to rest. Jaqui rushed from the living room and said "Oh my god, have you broken anything?" I looked around and said "yes, the door" (which was so much more important than two ribs as we only have one toilet door, I've got 24 ribs).
The doctor said there was nothing he could do, just a box of Ibroprufen with every meal.
I'll tell you what pain is - It's sneezing, coughing and laughing (no problem avoiding the latter) but the worse time without equal was getting out of bed. If I were a medieval torturer, I would break a few ribs of the victim and then put them to bed. A tip for anyone who suffers the same misfortune in the future:- Tie a sheet to a leg at the bed base, twist it rope fashion, haul yourself into a sitting position, then swing legs out of bed. A holiday in Majorca that was previously arranged was just seven days after the trip (excuse the pun). Although a convenient break (another pun) for rehab, it wasn't the best holiday due to my being the major source of entertainment for both my party and onlookers tittering while I took twelve minutes to rise from the sun bed while struggling like an upturned tortoise and swimming in circles in the pool as I couldn't extend one arm - not to mention playing golf left handed as the head is then backwards!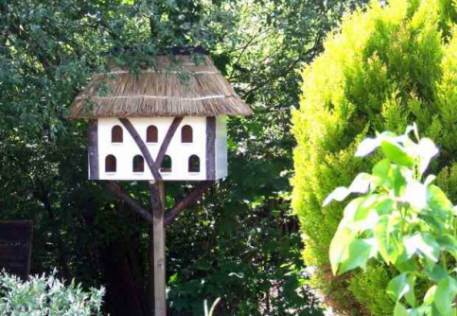 While visiting a local Eastbourne pet food emporium, there was a beautiful fully thatched gable roof approx 6ft long lying on the ground. Now either this was a hedghogs bungalow, or there was a serious sub-sidance problem in the area! Upon enquiry, I found that it was part of an ex display unit. Actually, there were two of them 6 ft and 4 ft and I could have the pair for £20! The money was in his till before Jaqui had time to hide her purse. A visit to my workshop furnished me with some poles and a few tools, and voila! Am I the man!
Using the smaller of the two, I made a Dovecote. I have since discovered that breeding pairs of doves can be expensive and my dovecote has nestboxes within to accomodate 13 pairs! Not a problem, I am sure I can obtain Polish doves much cheaper.
(An addendum) I later discovered that doves will not nest in a cote close to trees, only in the open (that saved me a few quid!). But, it is now home to a family of squirrels which we feed daily.
With the second and largest roof, I built a garden bar. Now thats what I call resourceful. We constantly research for justifiable excuses for barbeques, so now we have one - A Grand Bar Opening BBQ! After a couple of visits to boot sales, an optic stand, tapas bowls and beer mats completed all requirements. No more to-and-froing to the kitchen for top-ups.
A structure infinitely more pleasing and useful than a Tudor style thatched high-rise residential hotel for flying rats.
A customer phoned us at 1:30 on a sunny afternoon and asked if there was any way we could deliver a trug to him by the following morning as a last minute gift (we state that all orders must be made before 10:30 A.M. to guarantee next day delivery)
Well, this is what I were thinking! Because this is one of those rare scorching days, because I've just finished building a new decking area and two new loungers have just arrived - because there is a pint of cider in the fridge waiting for me - because the wife Jaqui PhD (packing and Handling Dept.) went home early to prepare the decking for a mini holiday - NO CHANCE PAL! ----- BUT, because we like to maintain our reputation for rapid service, customers take absolute precedence over my rare, almost non-existant down-time, - But this is what I actually said - "OK no problem". I then had the unenviable task to inform the leader of the opposition she must change from her sun attire and return forthwith to our dusty workshop in the hope of preparing the customers parcel before Piotrek the Polish (naturaly) courier arrives.
Hi Kevin,
Received the Trug yesterday. The Missus loves it and the quality of construction is fabulous. Thankyou to both of you. Keep up the good work.
Regards
Phil & Donna.
Customers feedback was:-
The leader of the opposition and I are both addicted to the TV programme 'Professional' MasterChef. While watching episode 18, a Semi-Final at the very exclusive Michelin star restaurant Grave Tye Manor, we were pleased to see my (our) trugs being featured quite heavily. They were using two Daffodils (no, not to eat) which demonstrated that not only are they ideal for flower collecting but also the harvesting of herbs and more delicate produce. I did notice that the two tall skinny chefs chose the Daffodil trug, but the more rotund chef chose a No.7 trug, perhaps there's something Freudian there!
Service with a smile? (No)
Harrods Peter Rabbit Display
I was asked by the Harrods window dressing company to make a huge 1100 m/m long Trug (or 43 inches if you were born before 1960) for their 'Peter Rabbit themed Spring window display. Unfortunately, the window dressers deemed it necessary to age it by painting it brown, Hey-Ho! All the veg and tools are specially made in a giant size, hence the request for a large Trug. The window display was viewable from 8th March - 8th April and stretches the full length of Harrods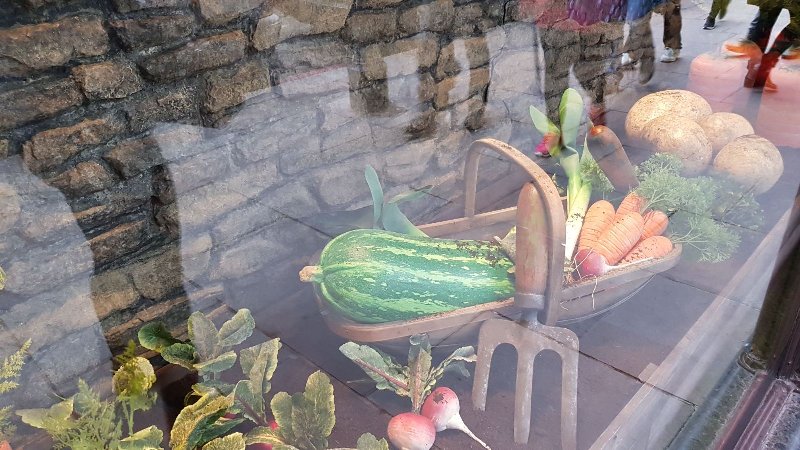 Hugh Fearnly Whittingstall using a No.5 Trug, one of several various sizes of our trugs he uses.on the programme 'River Cottage' (although this picture would suggest a No.6 would have been more applicable)..
Due to the many and varied very popular cooking programmes on TV, my Trugs are frequently seen in the background or actually being used. They have become 'the' receptacle for fresh herbs, eggs, fruit etc
BBC Gardeners' World Magazine
Browse our trug recommendations for discerning gardeners, below.

No.1 -Trug Makers Handmade Sussex Trug
This trug is handmade in East Sussex by maker
Kevin who has decades of hands-on experience. The pictured design is the No.7 Harlequin Sussex trug (the number refers to its size) and every one comes with a lifetime guarantee against normal usage.
All the trugs are signed and dated on completion.
It's not a frequent occurrence, but occasionally we have visitors to our workshop providing they possess the same sense of adventure as Marco Polo and Ernest Shackleton as our workshop is nigh impossible to locate. Our frontage is invisible, completely veiled by woodland and our rear entrance, understandably, could be assumed to be a loading bay for neighbouring workshops. However, two intrepid travellers, John and Regina, found our lost city (workshop) and have since become repeat customers. On their first visit, John bought a new trug to replace his broken one (not made by me, but a nearby maker) and as he appeared quite attached to the now deceased trug I offered to repair it. Later in conversation, we somehow arrived upon the topic of food (a favourite focus of mine) during which I stated "I probably eat foreign food four days a week". A couple of weeks later when collecting the repaired trug, the lovely Regina presented me with the gift of a HUGE cardboard tray of the most amazing, and subsequently delicious variety of culinary delightful meals – Beef Rendang, Chinese Pork, Balado, Gule Kambing, Kerupuk, corn and egg soup etc. etc. more than enough dinners for two for a week (or just me for four days). So, if there are any Michelin starred chefs out there with a busted trug, you know where I am (well you probably don't, but map instructions are on my contact page), but you do have a hard act to follow! A big, big thank you to John and Regina.

Zoe Sugg 'Zoella' from East Sussex is a young internet blogger that has accumulated over 10 million viewers, making her an internet sensation. Zoella's mum called us and bought one of our Trugs for Zoella's birthday. The clip below of Zoella opening the Trug was included in one of her regular blogs. To view the short clip click the PLAY white triangle.
Well, what an accolade! The very popular gardening magazine Gardeners World voted my No 7 Harlequin Trug as their No.1 Choice of gardening Trug (wordage copied from the Internet).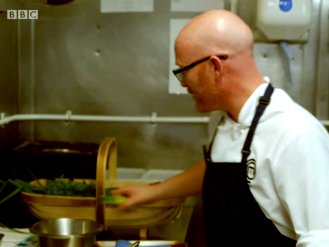 Gary Maclean was b MasterChef Professionals champion.
Exposed on TV
Does anyone remember the Monty Python Cheese shop sketch? Well that sketch became reality this afternoon.
A lady phoned a few days ago to complain that she had not received her Trug?? She had a voice that by comparison made H.R.H. sound like Katherine Tate. I checked all recent orders and there was no order from her and explained this to her, she indignantly said she would try again.
She called again today and announced she would like to order over the phone instead of online. I recognised her voice and naturally assumed she intended to order the Trug she attempted to order earlier; this was the following conversation:-
Me: OK my dear, what would you like?
Her: Could I have a quarter of the game pate?
I hesitated, then, the cheese shop sketch came to mind.
Me:
I'm afraid we are out of stock of game pate at the moment.
Her: Ooh no! Well I'll have the game sausages then.
Me: Not your day I'm afraid, completely out.
Her: Oh great! (Irritated) – Let's try the 400 gram smoked Salmon Fillet then.
Me: A very good choice Madam, (hesitated), none at the moment, out of season.
Her: Oh for God's sake do you have anything in stock?
Me: We have plenty of stock; I've been replenishing stock all week.
Her: So what HAVE you got (Very irritated)?
Me: No.5's - 6's - 7's - 8's
Her: What on earth are you talking about you stupid man? (Very, very, irritated).
Me: Sussex Trugs, what size would you like?
Her: A long silence apart from heavy breathing; and then she hung up.
(Probably phoning the Deli to order a trug)?

Trug Makers Blog
Me, making a handle, the chassis of a Trug
---
Me, making a handle, the chassis of a Trug
---
Me, making a handle, the chassis of a Trug
---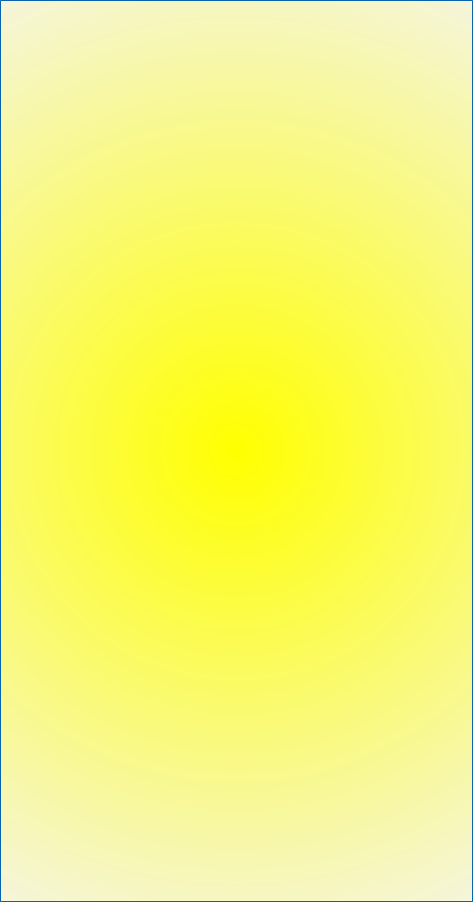 We have moved nearer Hailsham town centre and away from an unfitting Industrial Estate. I believe we now have the largest Trug shop in Sussex, the home of the Trug (all this space for just one Trugmaker!)
They say that moving home is one of the most traumatic times experienced, well have a try at moving a workshop! There were times, and many, when I thought it just too much, but the thought of no longer making Trugs made me dig-in and continue. Most certainly I have made more trugs than any other living person and do not intend to hang up my tools yet to just sit in Gods waiting room, what else would I do?
Should you wish to visit, we are not visible from the road so for a detailed map and directions, click link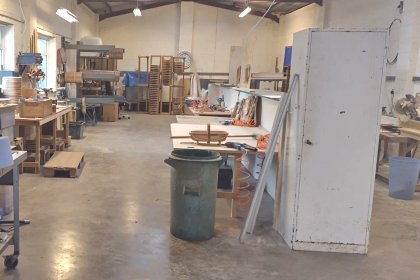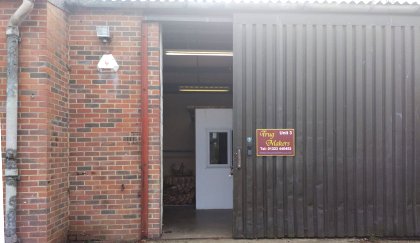 Entrance
Just one half of our workshop