for Trugs Hand Made in Sussex
Kevin
Your Trugmaker
Packaging & handling Dept.
and Quality Control
(Leader of the Opposition)
'If ' you can find hand crafted Sussex trugs cheaper than mine, I'll polish your car with a cotton bud! The reason! My overheads are very low, no office staff, no company car (I haven't driven for 20 years) and fed only once per day. While attending a woodcraft fair, a nearby maker, after (I assume) examining my prices cleared his stock and went home!
As at this moment in time, I have never, yes never had a dissatisfied customer, on the contrary, I could not possibly show every lovely letter of thanks I have received over the last year, let alone of all time.
To see just a few of the most recent feedbacks just click the 'My feedback' link above.
About My Trugs
All trugs are hand crafted by myself in the traditional way of steaming and bending the component parts and all materials used are F.S.C. approved. Finished Trugs are signed and dated by me. Following a final check by Jaqui, a unique Sussex Trug stamp is added on the base. My Trugs come in five sizes 5 - 6 - 7 - 8 and the Daffodil (see the individual trug descriptions for Dimensions and capacity).
My wife Jaqui PhD (Packaging and handling Department) as the title suggests, is responsible for receiving, packing and shipping your orders. We offer very rapid delivery, if a trug is ordered before 10:30 A.M. you will receive it next day by courier, ideal if it's a last minute present. Jaqui can also include a personal message on a card if you wish (no extra charge). If you view our Feedback page, you will see that rapid post is greatly appreciated.
The word Trug is a derivation of the word Trough and was originally used for measuring grain and seed volume, hence the variation of sizes. As mechanical scales eventually replaced the the trug as a tool of measurement, the trugs were then utilised as a basket for carrying garden produce and hand tools. In a recent nationwide survey by a popular gardening magazine, the Sussex trug was voted the fifth most essential gardening accessory.
In 1970 while working for another company, I designed 'the Harlequin' trug. This was submitted to the British Design Centre and subsequently awarded the Standard kite mark for design excellence. Although the design has now been copied I like to think 'imitation is the sincerest form of flattery'!
In June (2011), this trug was chosen as 'best-for-style' in the very popular Grown-Your-Own magazine. Trugs I made 45 years ago are now being sold in Antique shops and collectors fairs. At the famous Ardingly Antiques Fair I discovered one of my very early trugs for sale and introduced myself as the original maker to the seller. He asked me if I would sign it (good idea I thought), so, from then on, all my trugs are signed and dated on the bottom board.
There are foreign imports available from garden centres made in China and Poland which are usually higher priced than my trugs even though they are of a very poor quality held together with staples! I offer a lifetime guarantee, impossible for imported models.
for Trugs Hand Made in Sussex
Jaqui PhD. QC.
A trug is 'the' tool for all gardeners, whether collecting produce for Mum and Dad or for your family.
This guy is 104! Enjoying his 'home-grown' on the Isle of Man, a picture of Health and contentment
World record strawberry harvest?
Smiles that melt your heart! (even though they have just painted the dog blue with dads left over emulsion!)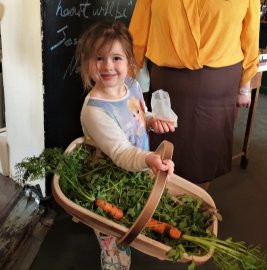 Little girl gathered carrots for Mum's farm shop & Bakery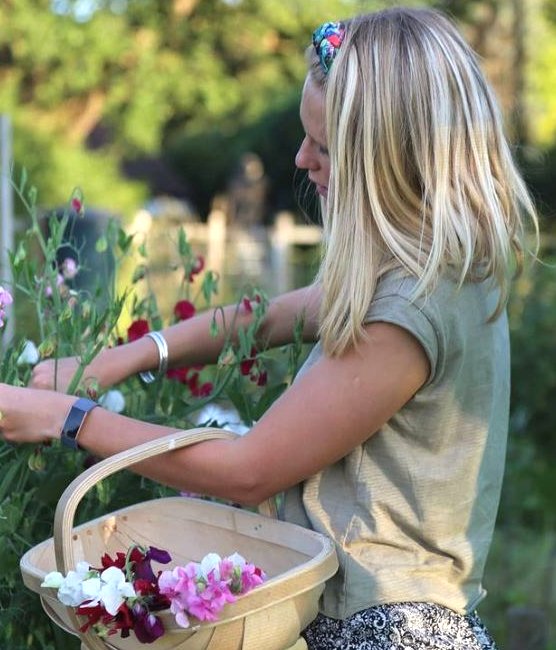 Grace, a lady that loves her Trugs and a huge gardening lover using a No.6 Classic.